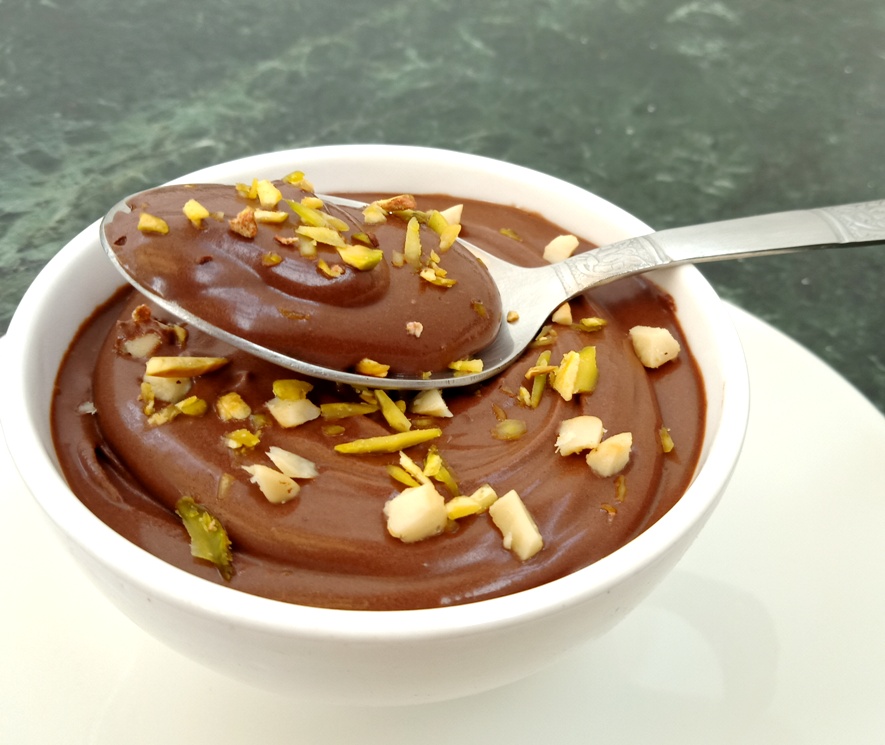 Several months ago, I registered my name for a cookery competition and asked for suggestions on what to make in a WhatsApp group dedicated to vegan cooking. One of my friends, Hema didi—a pro chef—suggested that I make brownie pops with ganache and sprinkles. I already knew how to make brownies. However, at the time, I had no idea what "ganache" was, but dutifully followed her instructions to make a silky smooth and intensely chocolatey topping I immediately fell in love with! Ultimately, I did not win the competition but had definitely found myself a keeper in the vegan ganache. Thank you, di 🙂
This ganache looks gorgeous, tastes lovely, and fools others into thinking you actually slogged for hours in the kitchen preparing this stuff (husshh…. secret: it's super-easy to make!)
Use it to frost cakes, as a topping for brownies or ice creams, or simply serve a dainty scoop sprinkled with roasted nuts with a fruity sauce on the side! I served it with this strawberry sauce at a get-together and it was a hit!
Preparation time: 10 minutes
Yields: around 2 cups
1 cup = 150 ml
Ingredients:
2 cups coarsely chopped vegan dark chocolate (I used Morde)
1 cup thick coconut/cashew milk (see notes)
A pinch of salt
1 teaspoon instant coffee powder (optional)
Method:
Place all the ingredients in a heat-proof bowl.
Fill ¼ of a kadhai with water and bring to a boil. Lower the heat to a simmer. Place the bowl with the ingredients inside the kadhai. The chocolate will start melting due to the heat from the simmering water.
Stir the chocolate mixture gently to ensure all the chocolate pieces have melted. It will take around 3-4 minutes. Remove the bowl from the kadhai and let it cool to room temperature.
Blend the ganache in a mixer jar on the highest setting for a few seconds until smooth and creamy. Cover and store in the refrigerator for up to a week. Thaw to room temperature if frosting cakes; otherwise, serve cold as a dessert in itself.
Notes:
To make thick coconut milk, soak one cup of grated fresh mature coconut in one cup of hot water for 15-20 minutes. Blend on high speed until thick and creamy. Strain using a fine mesh sieve or cheesecloth. Reserve the milk and use the residual pulp in some other recipe. Alternatively, you can use store-bought coconut milk that comes in tetra packs/cans.
To make thick cashew milk, soak 1/3 cup of cashews in warm salted water for 4-5 hours. Drain and rinse.  Blend with one cup of water until smooth and creamy.
Don't use almond or soy milk–the result won't be as rich or creamy.