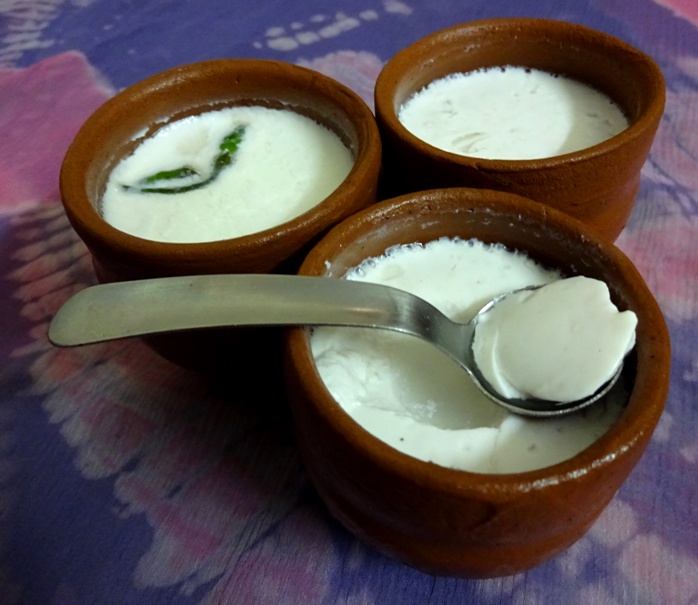 Ok, friends! I'm so excited to share this with you—creamy peanut curd that actually tastes good! Yay 😀
I have been on a curd-making spree ever since I went vegan in October 2014. After trying numerous recipes from vegan websites, I was eventually able to set really nice-looking peanut curd. But the problem was, no matter what I did, the curd always had a strong, nasty "peanutty" smell. Adding rice milk (as recommended by some) did help to neutralize the flavor, but it still wasn't palatable enough for me.
Thankfully, the Vegan Curd God finally revealed the secret to me through Daisy Pruthi who runs The Vegan Oven—Gurugram. 
You too wanna know? The secret lies in the method of making the milk! Now hop on to this Peanut Milk recipe and use it to make this curd. You won't be disappointed, I promise 🙂
 Preparation time: 10 minutes + setting time
Yields around 500ml curd
Ingredients:
Method:
In a deep bottomed kadhai/saucepan, bring the peanut milk to a boil. Add sugar, if using. Lower the heat and simmer for 2-3 minutes.
Let it cool down for some time. Once it is just slightly warm—you should be able to dip a finger comfortably—mix in the starter curd and stir well.
Keep aside to set for as long as you would for dairy curd according to the climatic conditions in your region. Setting time would vary from 5-7 hours in summer to 10-12 hours in winter.
If you don't have any curd starter, you can just break a couple of chilies into two pieces each and drop into the warm milk and proceed as per Step 3. The curd will still set well but will have a slight chili flavor.